T. rex Breakout - 10758 LEGO Junior
Includes 3 minifigures: Claire, a guard and a scientist, plus T. rex and baby dinosaur figures
Features 2 Quick Start bases, movable robot arm and attached breakaway fence section, plus a small science station with case, screen and small fenced area
Also includes a truck with Quick Start chassis, opening back and room for a crate, plus a posable, buildable T. rex with opening jaw
Accessory elements include 2 dinosaur eggs, box, tranquilizer gun, stick, 2 walkie-talkies and a hot dog
This awesome construction toy is suitable for ages 4+ and LEGO Juniors sets are fully compatible with all other LEGO sets
Includes Easy to Build models with Quick-Start bases, plus a simple guide to get children building and playing quickly
T. rex measures over 4" (11cm) high, 1" (28cm) long and 2" (6cm) wide, Truck measures over 2" (6cm) high, 3" (9cm) long and 1" (4cm) wide
Main gate with fence measures over 5" (14cm) high, 8" (22cm) wide and 4" (11cm) deep, Science station measures over 2" (7cm) high, 3" (8cm) wide and 1" (4cm) deep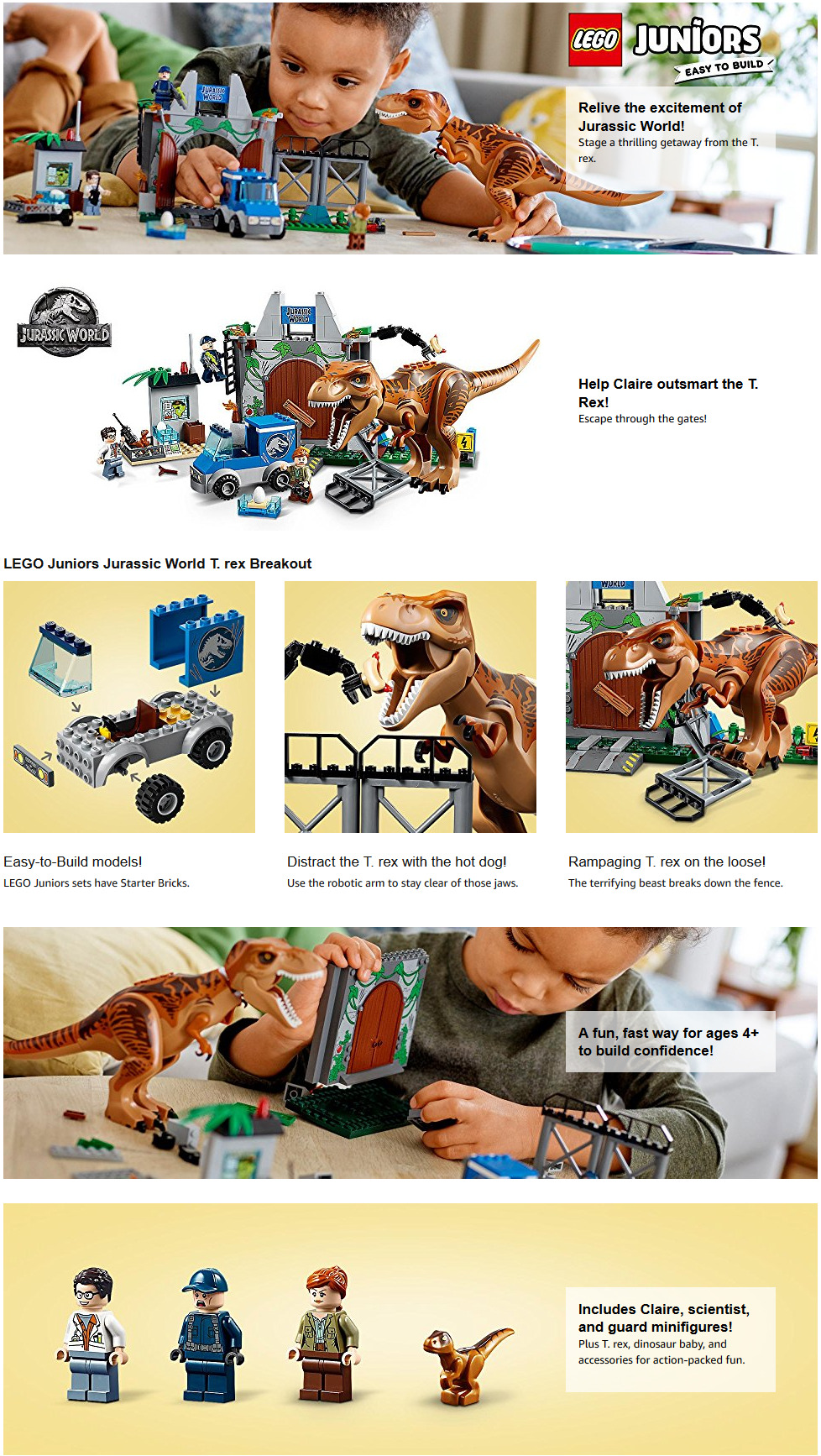 Product description
Introduce your child to the thrill of a LEGO Juniors Jurassic World adventure! This thrilling T. rex Breakout set features a posable, buildable T. rex with opening mouth, 2 Quick Start bases with gate, breakable fence and wall element, small science station and a truck with Quick Start chassis. This fun construction toy includes a simple guide to build and play, to help build confidence in children ages 4-5. Includes Claire, guard and scientist minifigures, a T. rex figure and a baby dinosaur figure.
Product Safety
This product is subject to specific safety warnings
Warning: Not suitable for children under 36 months

Warning: To be used under the direct supervision of an adult
Safety Warning
Origin
All LEGO Sets are original from LEGO Malaysia

All LEGO Part are new and from LEGO Sets.

All Minifigures are new and from LEGO Sets.